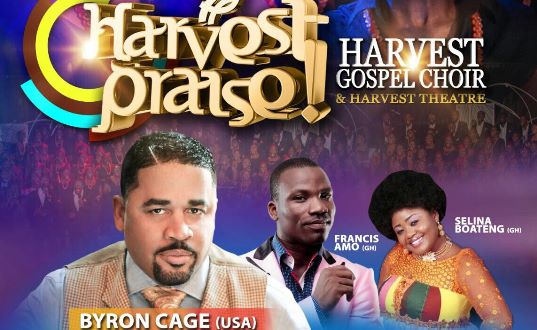 On Easter Friday, March 25,the Accra Conference Center will witness yet another earth smashing gospel music concert – in keeping with an 18-year tradition of rallying the nation behind the cross – commemorating the death and resurrection of Christ.

Event organizers – Harvest Praise Planning Committee have thrilled the Christian community over the years with breath taking theatrical and music ministrations often featuring the nation's best gospel music talents alongside legendary performances of celebrated international artists.

Moses OK, Tagoe Sisters, Diana Hamilton, Danny Nettey, Andrae Crouch, Kurt Carr, Bob Fitts, Vinesong, Darwin Hobbs and a host of many prolific artists have graced the Harvest Praise state.

Ghana's undisputed trail blazer in gospel musical concerts, Harvest Praise is set to wow patrons this year with another unforgettable line up – a tight packed duo show – 1:30pm afternoon and 6pm evening sessions both to serve adults and kids of 4 to 12 years.

American Worship Music maestro, Byron Cage takes the center stage to lead patrons in a soulful entrance into the presence of God. Watch out for Ghanaian- American remix of his hits including 'The Presence of the Lord is here' and 'Thou O Lord are the shield for me'.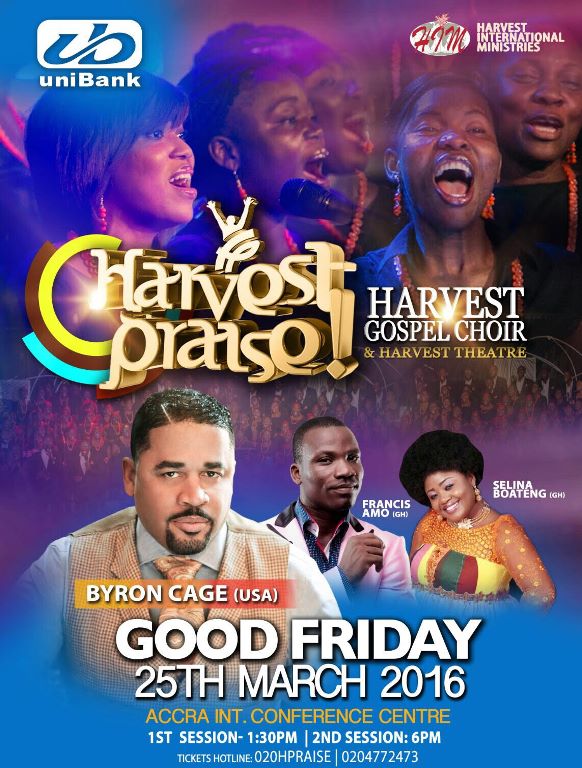 The nation's choral heartthrob, Harvest Gospel Choir are also set to lift praise in exhilarating renditions of popular tunes and their very latest single 'Taking New Territories'. Ministers Selina Boateng and Francis Amoh among other performances will rock local praises in ecstatic dance to set the venue ablaze for God!

The icing on Harvest Praise, HP KIDs introduced 2015 as a compliment program exclusive for kids' play and learning of Christian content is staging an even bigger and better show this year with international child televangelist Duncan the Donut and Donut Man of Integrity Music fame from the US. There will be lots to share alongside brilliant kids performances inlcuding choreography, drama, etc.

Harvest Praise, an evangelism tool of the Harvest International Ministries have used the program for over a decade to unite the body of Christ – drawing patrons across denominations and reaching out to souls every Easter through the medium of music.

The program is arguably Ghana's standard for all gospel music concerts – small and large scale – with organizational excellence that still stands unrivalled.

The Chairperson of the Planning Committee, Dr. Gloria Folson who has been hip on fine tuning preps for the all-big event said Ghana must get ready for another "HP styled explosive praise and worship feast especially geared towards drawing on God's love and protection for the country in preparation for the November 7 polls. Symbolically as we lift our hands to the one sovereign God, we are reminded that what binds us together is stronger than the political ideologies and interests that wedge us apart".

Tickets are fast selling at various outlets including Sunny fm, Sweet Melodies, Citi Fm, Viasat One and all branches of Harvest Chapel International. A hotline for ticket sales – 0204 772 473 keeps buzzing for prompt delivery in Accra and Tema. The heavily subsidized tickets seeks to provide great family fun and participation. An adult ticket guarantees 1 free HP Kids ticket but with limited stocks – the first to grab walks away the happiest!

The program is ably partnered by Ghana's best SME bank award winner – Unibank through generous support of other notable brands and powered by Viasat One, Citi FM etc.

All roads indeed lead to the conference center this Easter Friday for yet another history in the making.

–

Credit: Harvest Praise